Implanted in the Douro River, specifically, in the county of Cinfães, the Villas of Cobradão, due to its location, their customers will not only enjoy all the Douro Region, as well as a tourism geared for historical and cultural offer of this county with prehistoric roots as exemplified by the numerous secular "Castros" of megalithic origin.
Besides all the fantastic tourism related to wine from the Douro Demarcated Region, one may discover historic sites, such as the Romanesque Church of Tarouquela and Escamarão, the Church of S. Cristóvão de Nogueira and places like the river Bestança completely wild and Montemuro's mountains with almost 1,400 meters high, where it is born.
The Villas of Cobradão will be able to jointly offer stay up to 16 persons and is currently in draft form, foreseeing its completion during the year of 2017.
Living rooms with fireplace
Dining Rooms
7 Double bedrooms
7 private baths (suite)

2 Bathrooms support
Inverter Air Conditioning (Hot and Cold)
Private Pools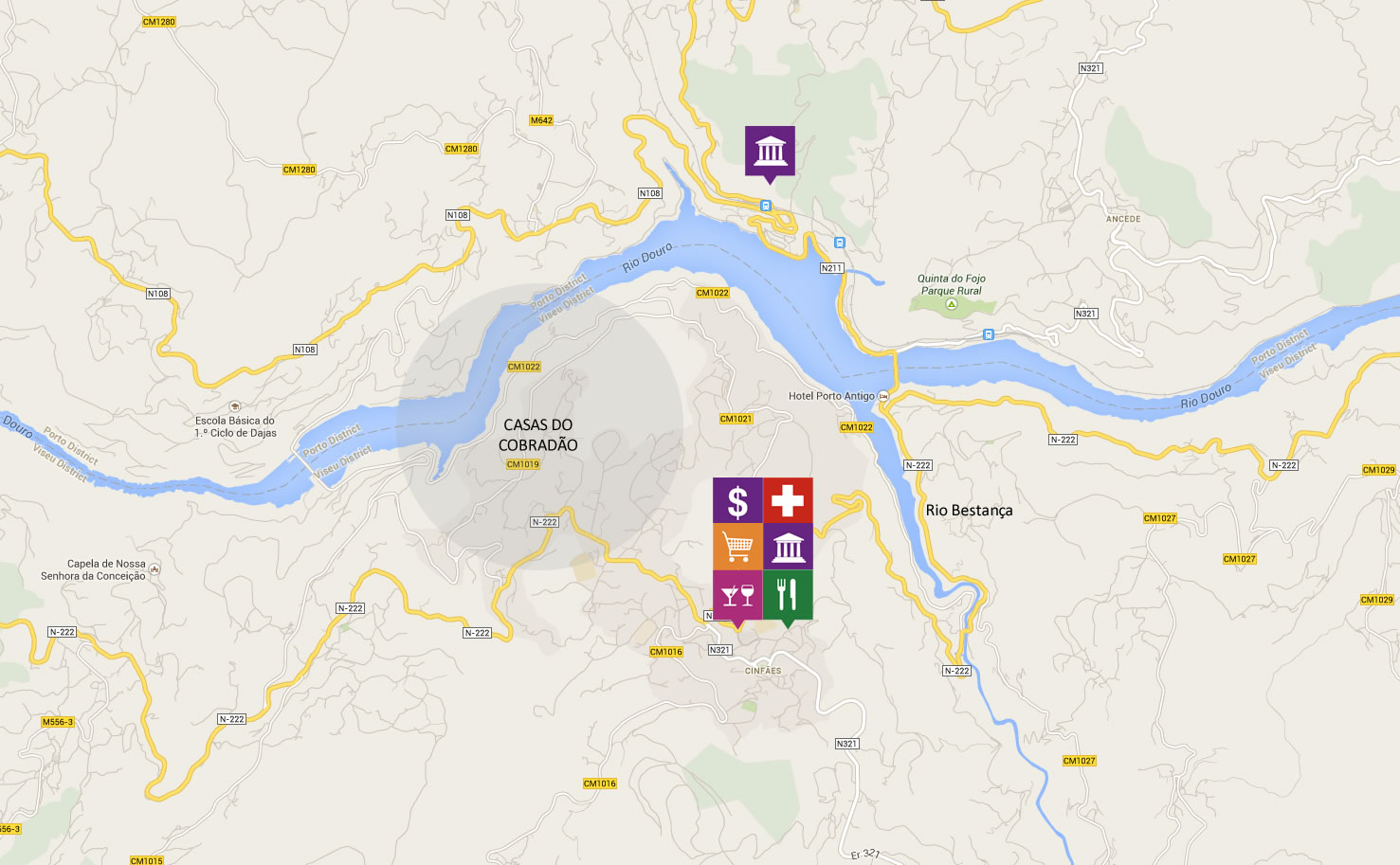 Please fill in the following form and send us your reservation.
General Conditions
The high season is for the months of July and August.
The average season is for the period between 15 May and 30 June and from 01 September to 15 October.
The capacity of the houses is said in their description, and may put up a crib for baby.
Check- in is from 16h30 until 22h00 hours and check-out from 09h00 until 11h00.
The minimum stay is 5 nights in July and August and 3 nights other months (except weekends)
The booking will be confirmed after the deposit of 50% of the total price.
The security deposit for safeguarding of any damage caused to property and / or its furniture and equipment, is € 300.00 payable simultaneously with the full payment, which must always occur before the time of entry .
In case of stay only a weekend the security deposit will be € 150.00.
The security deposit shall be returned when leaving the villa.
Pets are not allowed.
Prices shown are for the year 2015/2016.